I hear you now –  I'm SOOOO wrong on this, right?  Cufon is a standard compliant javascript file with failback support – It MUSN'T affect SEO at all!  The previous means –  that even in browsers (or robots) that do not support cufon, the text will be seen just as text – index-able plain text!  This text will get weighted and indexed just like any other text on the internet.  So I'm an idiot and wrong – right?  Not exactly.
So then how does cufon affect SEO?  Well now that google has released "instant preview", cufon font is not being rendered in the images.  Some suggest it is a problem with google's bot.  Regardless, this is an issue for YOUR cufon website!  Your image can come up completely incomplete in the preview pane.
I will use Katy Perry's website as an example.  Just look below at the highlighted sections that use Cufon and see how cufon is missing completely: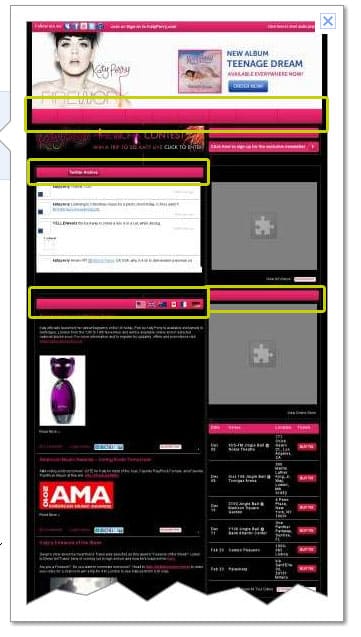 I'm currently working on a fix for this and testing out a few different options.  I will update you once I verify it.